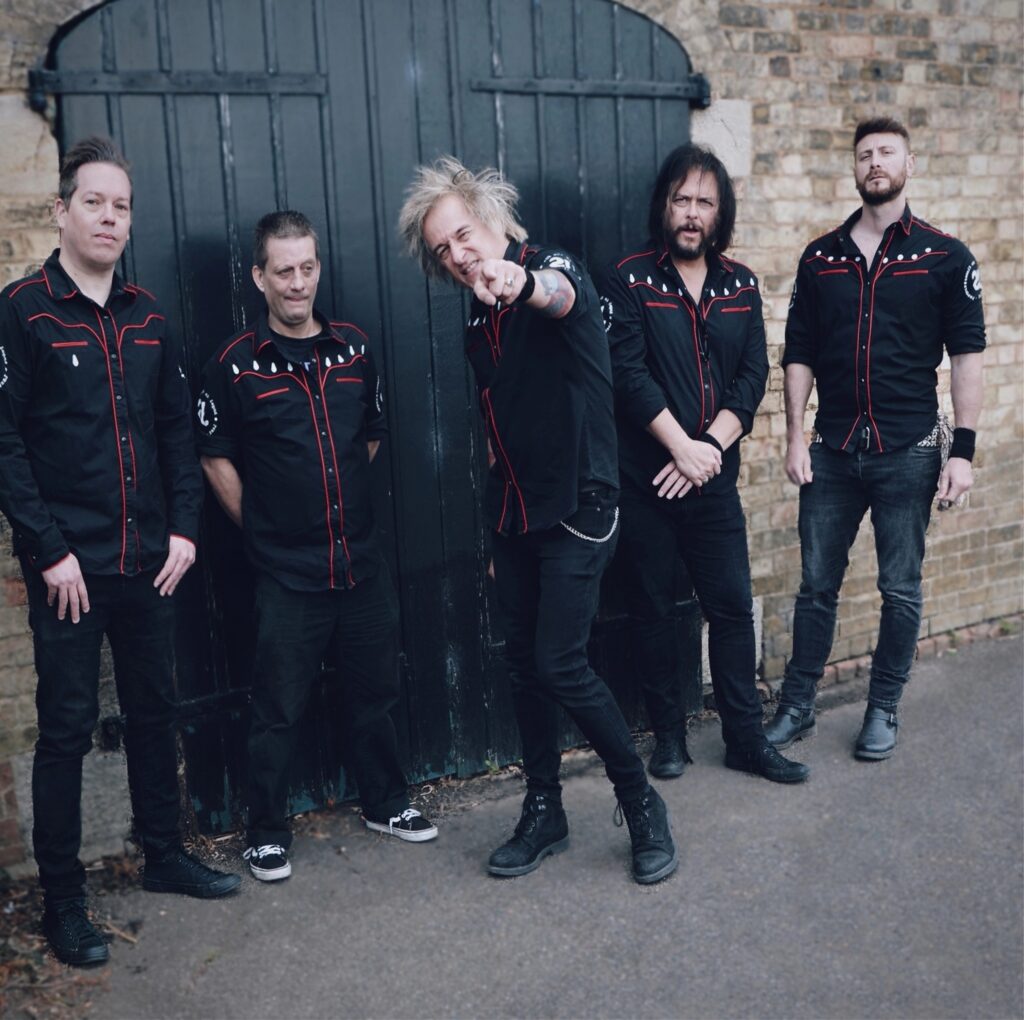 "A rock 'n' roll program of crashing metal and punk rock guitars with an almost 1960s poppy psychedelia sensibility"; Janus Stark were formed at the same time that lead-singer and six stringer extraordinaire Gizz Butt was also the guitarist for The Prodigy during their height-of-success 'Fat of the Land' period, which was a number one album in 38 countries in 1997.
Gizz has also been the former guitarist of English Dogs, U.K. Subs, The Destructors, Fields Of The Nephilim and the Steve Ignorant (Crass) Band amongst others. Regarded as a general all-round Peterborough punk legend, he's known for melding heavy metal guitars with punk energy and attitude, his style being one of the first creators of the 'crossover' genre.
Ever the indefatigable artist, whilst The Prodigy were touring 'Fat of the Land', Butt was recording snatches of riffs and scribbling lyrical ideas in hotel rooms and between gig flights. When time allowed, he would enter the studio with his then band, English Dogs, to record some of these new tracks, toying with the idea of launching a brand-new band project which would enable him to flourish even further as lead vocalist but without the ties of a 'complex band past'. During one flight to yet another huge festival, Butt passed around a list of potential band names to his fellow Prodigy band members and it was 'Janus Stark' which gained the most praise, its actual source being from a Victorian London escapologist comic strip character, found in the pages of the popular comic Valiant during the early 1970s.
That time proved to be another prolific period for Butt, who despite being inspired heavily by his Prodigy band mates, found his riff ideas being heavily ignored.
Despite this, they certainly found a suitable home on Janus Stark's much lauded 1998 debut album 'Great Adventure Cigar', produced by Terry Thomas, then known for his work with 3 Colours Red. The original Janus Stark – Butt, Shop (bass) and Pinch (drums) then deservedly found themselves catapulting up the USA Billboard Top 40 with their classic single 'Every Little Thing Counts' finally reaching number 32, a significant achievement. It had been at Butt's suggestion, that in December 1997, the Foo Fighters were invited to tour with The Prodigy. Not only did Butt join the band on stage at these gigs but he also allowed the Foo's to hear the latest mixes of Janus Stark's debut album, to which their enthused reaction was that this was exactly what the music business needed, in the form of…
"A great melodic kick up the arse…" (DAVE GROHL and TAYLOR HAWKINS)
In 1998, a deal with Trauma Records (home of Bush and No Doubt) in the USA led to four well received tours and three soundtrack appearances, notably on the 'Varsity Blues' film score which made the Top 20 of the Billboard Top 200.
That year, they were also awarded acting roles in the bizarre British movie 'Whatever Happened to Harold Smith'. Janus Stark wrote and recorded songs for the soundtrack as well as appearing in the film as themselves.
Building on their success, 1999 then saw the band play to over 65,000 people on a European tour with Die Toten Hosen.
After Gizz's eventual parting of the ways with The Prodigy, drummer Pinch (who went on to join The Damned) then left Janus Stark and they eventually split in 2002 as Butt began to spend more time in Europe with his new metal-tinged project The More I See. It was while residing in Hamburg in 2018 that a friend and local punk promoter suggested he reform Janus Stark for the 'Hamburg Booze Cruise'.
Feeling at odds with the UK metal scene and its lack of investment in home grown talent, Gizz turned back to his 'punk rock family' roots which he had always remained very close to, and they welcomed him back with open arms.
Butt asked Richard Gombault of 90s pop punk trio Midget to join, he'd actually sung backing vocals on 'Great Adventure Cigar', and along with Gombault, Butt's long standing close friends Fozzy and Simon Martin, both from Peterborough alt rock bands, The Contrast and Sacred Heart respectively, jumped at the chance to join this exciting new expanded Janus Stark line up.
In 2019, while hanging out with his friends the U.K. Subs (Gizz was their guitarist for a spell prior to his Prodigy audition), Butt, at Subs' stalwart-bassist Alvin Gibbs' suggestion teamed up with Time & Matter Records with a new album immediately being planned. A support tour with Gizz's favourites The Wildhearts was then offered, so Butt took the initiative, taking out a loan to help plan and support the reformed and rejuvenated Janus Stark album release, with a headline UK tour being booked to follow their Wildhearts tour slot.
Those shows with The Wildhearts were incredibly successful, earning Janus Stark shining review after review. With Gombault having difficulties taking time away from his schoolteacher job, a new musician was inaugurated for these shows.
David Pistolas is a rhythm guitarist with an excellent harmonising voice and is punk rock eye candy to boot. Thus, this enhanced Janus Stark proved a tour de force on and off the stage with the Wildhearts' fiercely loyal and wonderful fans taking Janus Stark to their hearts as the tour ran its beautiful course.
With their second album having been released on T&M to universal critical acclaim, 2020's superb 'Angel In The Flames', along with their blistering live performances, seemed to have signalled an exciting upward trajectory for Janus Stark.
"At once brilliant and heart breaking, written from the darkest corners of the human psyche but with a hope and cheerfulness for the future that makes it seem almost light hearted…" (DEVOLUTION MAGAZINE)
But then came a personal double tragedy and that worldwide pandemic…
What followed next can only be described as the world's biggest mind fuck.
Gizz's father sadly passed away and shortly after the funeral, still grieving, Gizz was hit with the untimely death of his mother.
The difficulties of organising funerals and dealing with his parents' estate all coincided around the album release and the band's UK headline tour. The final nail was when Covid hit and forced the UK into lockdown.
Tour dates were dropping like dominos, merchandise, purchased in bulk, was left in boxes in garages, hotels booked were also refusing refunds.
Suddenly the planet was all on a level playing field. The so-called Glitterati were just as much in peril as the great unwashed. The lockdown forced everything into a great standstill. Here Janus Stark, as individuals, found their requisite social roles.
There was no place for an entertainer in those dark days. If you could live from your royalty cheques then you could sit it out. Not so for our Stark Superheroes. Simon resumed his letting agents' role, ensuring people had roofs over their heads. Richard, a teacher, spent most of his time at the school looking after keyworkers' children, effectively babysitting. David Pistolas managed his Stamford night club family business which unfortunately closed its doors, never to re-open, forcing him to take up a whole new career.
"A full force head banging and pogo jumping storm, that blows more than the top of your head off. A rock 'n' roll program of crashing metal and punk rock guitars with an almost 1960s poppy psychedelia sensibility in places thanks in part to Gizz's sensitive vocal delivery." (NUZZ PROWLING WOLF WEBSITE)
Gizz concentrated on his guitar tuition business, encouraging his students to engage with him on both the Skype and Zoom platforms. Fortunately, as Gizz was a peripatetic teacher in three schools, he was also permitted to wear the key workers' badge and step into the empty cities to witness deserted streets, silent except for the loud profanities of a bumbling drunk.
It was a desperate time for everyone, but it also encouraged new ways and new approaches, and for many, also afforded them the time to step back and look through the treasure trove of the past. In Gizz's case this was his extensive demo tapes archive. This revealed some real diamond material which T&M Records were delighted to release on two separate CD albums. 'Rewind To A' was a scorching collection of pre- 'Great Adventure Cigar' tracks, offering some heavily Prodigy influenced material, whilst the second offering, 'Chez Wrong', boasted post- debut album material, highlighting an unashamedly thrash and post hardcore sound. Once again – the reviews rocked!
Both releases served to fill in the gaps of the Janus Stark story, whilst also further enhancing the band's reputation.
"Janus Stark were very much admired across the Atlantic and Metallica, Dave Grohl and others clearly took note. The twisted Beatles-a-like of Every Little Thing Counts resolves into a poppy-surfpunk wig-out with a strident and insidious chorus which is truly infective." (VIVE LE ROCK MAGAZINE)
In the meantime, new music was being written, with Butt taking solace in the music of John Reis (Rocket from the Crypt, Hot Snakes, Night Marchers, Sultans), the prolific San Diego riff writer and vocal genius. This really opened up and introduced new possibilities to Gizz, with garage punk, rock 'n' roll, rockabilly, heavy blues, post hardcore, alt rock and proto punk sparking his ever-fertile imagination. Inspiration was coming in spades and the songs began writing themselves.
Butt then decided to move his city studio back home into his shed and after breaking the new studio in by tracking guitars and vocals for a new album by 70s punk band The Dole, Butt began eagerly working on his new Janus Stark ideas from there.
The first cut was 'Rollin' with The Punches', a garage punk, light hearted stab at the herd attitude of the public's response to Covid. Then the melodic punk of 'Father Time', a celebration of Gizz's parents' lives following their passing. The proto punk stabs of 'I Don't Want Your Sympathy', which digs at the British class system and the ridiculous hierarchy which is omnipresent in all aspects of our society quickly followed. "Not below you, not above you, always next to you", became the repeated mantra in the metallic 'Eddie 'N' Larkin'. A true story of arriving in the ghetto and waking up to the other side of the coin. 'Clusterfuck' and 'Reassuring' are both telling the story of the mess that our world has found itself in but with a "so what" attitude… we've had it worse, we can live through this with our positive attitudes.
What was to be eventually titled the 'Face Your Biggest Fear' album is constantly seeking to take a positive mental attitude, realising, admitting and flagging up the flaws, but crucially, also seeking a way back to shore and a safe landing.
New sounds were also found by revamping and pimping existing equipment. Different guitars came out of the lock-up to battle the lock-down, there was everything to try and nothing to fear. This zeal certainly helped the songs grow and take character. New approaches were also developed from solo streaming performances online, Gizz picked up the semi acoustic and made new arrangements of songs which led to new ideas that had previously not been entertained.
Whenever the lockdown lifted, even if only for a short time, Janus Stark got out and performed live. They never declined an opportunity. It helped to lift up a demoralised audience who needed a boost from the Covid boredom. Because of the prison that the pandemic had caused, 'Face Your Biggest Fear' presented itself as the perfect title for this new album. Covid had dropped everything into our laps and it made total sense to throw old attitudes away and move forward, knowing how fragile and temporary we all are, it made sense to take the approach of discarding fear but developing a pride, a self-worth as well as a spiritual love for protecting kindred souls.
Janus Stark next attempted a promo video during the lift up, but constantly ran into risk assessments, red tape and black days. The shutters slammed down and the facemasks went on. Boundaries were put in place; everyone's patience was tested. The world was proving itself to be in a situation that only one word could sum up: a clusterfuck! However, there was a tiny bit of light peeping through the Covid clouds so as soon as the restrictions were lifted, the band went into the studio at Leeds and filmed the promo vid for 'Clusterfuck'. It was also a good opportunity to lay down some rhythm tracks for the new songs and to develop a voice for this new album.
The annual British punk rock festival Rebellion was not going ahead at which Janus
Stark had been scheduled to play, nevertheless, a mini-Morecambe festival 'Punk At The Seaside' was organised with Janus Stark managing to get themselves on the bill. It proved a wise move, as the Starkers went down so well that they really won the crowd, earning themselves a place on the bonafide Morecambe Punk Festival and the Scottish Punktober Fest.
September 2021 saw the band travel back to Leeds in order to track all the remaining rhythm tracks. The lads recorded all the lead guitars, vocals as well as all those all-important harmony vocals that are absolutely crucial to the overall Janus Stark sound. Overjoyed with the results, they subsequently returned to Yorkshire for the final mix in December with Andy Hawkins. One last piece to the puzzle was the mastering with Andy Sneap, the world's greatest metal producer as well as being second guitarist of the present Judas Priest line up, and he, being an old friend, readily agreed to providing that finishing touch. It wasn't without hitches though as Gizz then tested Covid positive on the day that mastering was to begin!
However, Andy continued the mastering, communicating with the band online until the final stunning result was reached.
"The thing that sets Janus Stark apart from their contemporaries is the fact that Gizz is a shredder… while the lyrics are socially and politically aware, and the riffs crunchy, it's the melodies that always shine through, they are pure sugar for the soul." (RPM WEBSITE)
With the album's final masters in hand, alongside the eye-catching completed artwork from Milan Kult artist Crap Man Mayo, who'd previously designed for Rocket from the Crypt, and Gizz Butt's talented artist daughter Astrid, the goods were presented to the, once again, delighted team at Time & Matter Records to ensure that a first-rate product is ready for release on 22 July 2022, where Janus Stark will launch 'Face Your Biggest Fear' at the home of British punk rock: The 100 Club.
Hopefully, you will be there to face your biggest hear!
You'll just love…
"The punk attitude, the irresistible melodies, the emotional depth, the sharp riffing, the lyrical intelligence and the breath-taking lead playing – it's all here." (ZERO TOLERANCE MAGAZINE)